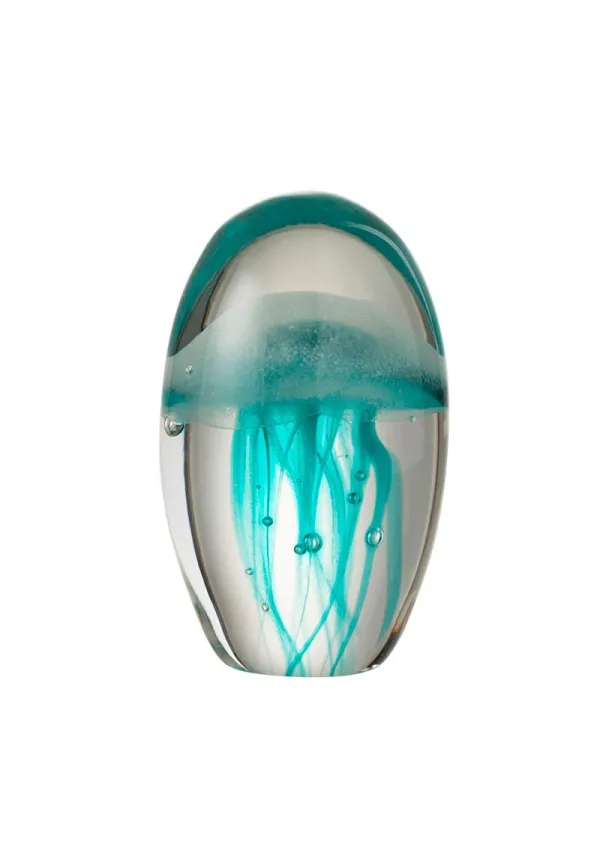  
Glass paperweight with green jellyfish
Tax included
Spain: 1-3 days / Europe: 3-7 days
A clear glass paperweight containing a glow-in-the-dark green artificial jellyfish.
100% Secure payment with credit card or Paypal
Delivery to E.U. in 2-7 days
Need help? Contact us
Jellyfish are fascinating animals that live in the sea and have a hypnotic beauty. However, they are also dangerous and can cause painful bites. For this reason, we offer you this glass paperweight with a green jellyfish, an exclusive product from La Botavara, the online store specializing in nautical decoration and sailor clothing. With this paperweight you can have a jellyfish in your house without any risk.
This paperweight is a unique and original decorative object, made of transparent glass that contains an artificial green jellyfish inside. The jellyfish has long and thin tentacles that give it elegance. In addition, the jellyfish glows in the dark, creating a very attractive lighting effect.
This paperweight measures 10.5 x 6.5 cm and has an oval shape. It is ideal to place it on your work table, your shelf or your nightstand. With this paperweight you can give a marine and modern touch to your home or office. You can combine it with other nautical-style decorative elements that you will find in our online store, such as sailor paintings, whale figures, etc.
Don't hesitate any longer and get this glass paperweight with a green jellyfish, a perfect gift for lovers of the sea and jellyfish. This product is of high quality and has an exclusive design inspired by the marine style. Also, if you buy it now you can receive it at home in a few days.
Take advantage of this unique opportunity and get this precious decorative object at the best price. You will not regret buying this glass paperweight with a green jellyfish that will delight all who see it.